Posts for: January, 2013
By Fatima Beheshti
January 15, 2013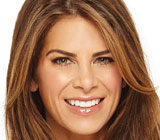 As America's toughest trainer on the hit television program The Biggest Loser, Jillian Michaels helped people learn that they hold the power to change. And if anyone knows about the power of changing oneself, it is Jillian Michaels. In her recent interview with Dear Doctor magazine, Jillian discusses her childhood, the trauma of being overweight as a teenager (5' 2" and 175 pounds), and the day her life forever changed when she started martial arts training at a gym. "I started training when I was 17 and always loved it but never thought it would end up being my career," she said.
Jillian also reveals that when she was a child, she broke her two front teeth and had them repaired with crowns. She added, "Now, I generally wear a mouthguard if I am doing anything where my teeth have any chance of being knocked out."
When it comes to replacing teeth that are broken or damaged from trauma, or teeth that are damaged because of dental decay, grinding habits, or acid erosion, crowns may be your best option. And because the tooth enamel is damaged, a bit more of it must be removed before we can place a crown. Generally speaking, we must remove about 2 millimeters of tooth structure to place a crown. Once the crown is placed, the tooth will always require a crown, as this is an irreversible procedure. However, the good news is that a crown not only mimics the look and feel of a natural tooth, but it is also the optimal long-term solution. On average, a crown last between 5 and 15 years and requires no special maintenance. In fact, you should treat your crown as you do your natural teeth, with a daily cleaning regimen of brushing and flossing and routine dental examinations and cleanings.
To learn more about crowns or other cosmetic procedures, contact us today to schedule an appointment so that we can conduct a thorough examination, discuss any questions you have as well as what treatment options will be best for you. Or to learn more about crowns now, you can continue reading the Dear Doctor magazine article "Porcelain Crowns & Veneers." And to read the entire interview with Jillian Michaels, please see the article "Jillian Michaels."
By Fatima Beheshti
January 05, 2013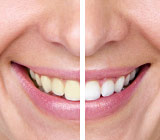 Time to tune up the brightness on your teeth? Here are six modern methods of whitening and brightening your smile.
In-office "power" bleaching under the supervision of my staff and me is recommended if your teeth are badly stained, or if you are about to have veneers or crowns made. It's quick, safe, and effective. Gels containing high concentrations of bleach are applied to your teeth in our office, often with the enhancement by heat and light to make them act faster. Results show teeth becoming up to ten shades lighter in about an hour.
"Take home" whitening solutions and trays are designed to fit your mouth and can also be provided by my office. The technique is easy to perform and is less expensive than in-office power whitening system, although it takes longer to see the same results. General recommendations are for 30 minute applications twice a day. You can usually see a change after two to four sessions. This requires patience, because it is important not to exceed recommended exposure in order to avoid damage to your teeth, gums, and the inside skin of your mouth. After two weeks of use, teeth can be expected to be about eight shades lighter.
Whitening strips look like clear Band-Aids that are applied to the tooth surfaces. They should be worn twice a day for 30 minutes each time, for seven days. On average, they claim to lighten teeth more than three shades. They take about two weeks to work at 30 minutes per day.
"Paint on" or "Brush on" whitening formulas are also available. These are gels that are painted onto the teeth every night at bedtime, for two weeks. Some claim that this line of home whitening can whiten teeth two to five shades. These gels may make your mouth feel goopy, but they are relatively inexpensive. Some gels come with a small brush to scrub them onto the teeth.
Over-the-counter "mouth-tray" whiteners use mouth trays that are not designed for your particular mouth, so they may not fit well and may be messy or uncomfortable. They are filled with gel and worn 45 minutes a day for one week. On average, teeth become two shades whiter.
Whitening gum is a relatively new product. It requires chewing two pieces for at least 20 minutes, four times a day, to see an effect.
Contact us today to schedule an appointment to discuss your questions about tooth bleaching. You can also learn more by reading the Dear Doctor magazine article "Teeth Whitening."