Posts for: October, 2017
By Dr. Fatima Beheshti, D.D.S.
October 28, 2017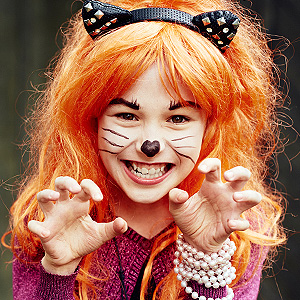 Halloween means loads of fun for kids everywhere: a chance to put on fanciful costumes and have some safe, spooky enjoyment. But the reward for all that trick-or-treating — bags full of sugary candy — can create monstrous problems for young smiles, in the form of tooth decay. Short of taking all those treats away, are there any ways to lessen the impact on your children's teeth?
According to the American Dental Association (ADA), the answer is: Yes!
As long as kids are brushing twice and flossing once a day, it's okay for them to enjoy a few sweet treats on Halloween. But starting that same night, or the next day, you can help protect them from cavities. Here's how:
Sort It Out:
Some treats are potentially more damaging to teeth than others. For example, candy that's sticky and clings to teeth — like gummy bears and taffy — takes longer to get cleared away by saliva. Lengthier contact with the teeth increases the risk of tooth decay. The same is true for sweets that stay in the mouth for a long time, like hard candy. Sour candy is often acidic, and that acid can weaken the hard enamel coating of teeth, making them more prone to decay. But there's some good news: Chocolate, a favorite treat, washes off the teeth relatively quickly — and dark chocolate has less sugar than milk chocolate.
Give It Away:
You can always give away some or all of your candy stash to people who will appreciate it: first responders or troops serving overseas, for example. Some organizations sponsor donation (or even buyback) programs. Try searching the web for programs like "Operation Gratitude," among others.
Timing Is Everything:
If you do allow candy, limit it to mealtimes. That's when saliva production is at its peak — and saliva helps neutralize acids and wash away food residue that can cause cavities. Whatever you do, don't let kids snack on sweet treats from the candy dish throughout the day: This never gives your mouth a chance to bounce back from the sugary saturation.
Get Healthy Hydration:
For quenching thirst, water is the best choice. It helps your body stay properly hydrated and is needed for healthful saliva production. Sugary or acidic beverages like sodas (regular or diet), so-called "sports" or "energy" drinks, and even fruit juices can harm teeth. Fluoridated water (like most municipal tap water) has been shown to help prevent tooth decay. If you drink bottled water, look for a fluoridated variety.
Following these tips — and making sure your kids maintain good oral health with brushing, flossing, and routine dental office visits — will help keep them safe from cavities, not only at Halloween but all year long. If you have questions about cavity prevention or oral hygiene, please contact our office or schedule a consultation. You can learn more in the Dear Doctor magazine articles "Tooth Decay — How to Assess Your Risk" and "How to Help Your Child Develop the Best Habits for Oral Health."
By Dr. Fatima Beheshti, D.D.S.
October 13, 2017
When you think orthodontics, you may instantly picture braces or clear aligners worn by teenagers or adults. But there's more to orthodontics than correcting fully developed malocclusions (poor bites). It's also possible to intervene and potentially reduce a malocclusion's future severity and cost well beforehand.
Known as interceptive orthodontics, these treatments help guide jaw growth in children while mouth structures are still developing and more pliable. But timing is critical: waiting until late childhood or puberty could be too late.
For example, we can influence an upper jaw developing too narrowly (which can cause erupting teeth to crowd each other) with an expander appliance placed in the roof of the mouth. The expander exerts slight, outward pressure on the upper jaw bones. Because the bones haven't yet fused as they will later, the pressure maintains a gap between them that fills with additional bone that eventually widens the jaw.
Functional appliances like the Herbst appliance influence muscle and bone development in the jaws to eventually reshape and reposition them. The Herbst appliance utilizes a set of metal hinges connected to the top and bottom jaws; when the patient opens and closes their jaws the hinges encourage the lower jaw to move (and eventually grow) forward. If successful, it could help a patient avoid more invasive treatments like tooth extraction or jaw surgery.
Some interceptive objectives are quite simple in comparison like preserving the space created by a prematurely lost primary tooth. If a child loses a primary tooth before the incoming permanent tooth is ready to erupt, the nearby teeth can drift into the empty space. Without enough room, the permanent tooth could erupt out of position. We can hold the space with a simple loop device known as a space maintainer: usually made of acrylic or metal, the device fits between adjacent teeth and prevents them from drifting into the space until the permanent tooth is ready to come in.
Interceptive orthodontics can have a positive impact on your child's jaw development, now and in the future. For these techniques to be effective, though, they must begin early, so be sure your child has a complete orthodontic evaluation beginning around age 7. You may be able to head off future bite problems before they happen.
If you would like more information on orthodontic treatments, please contact us or schedule an appointment for a consultation.