Posts for: March, 2018
By Dr. Fatima Beheshti, D.D.S.
March 28, 2018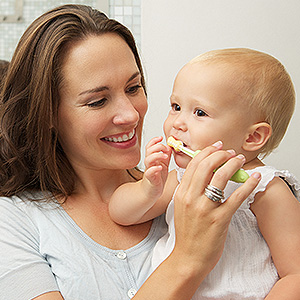 Your baby will grow into an adult so rapidly it will seem like they're changing right before your eyes. And some of the biggest changes will happen with their teeth, gums and jaw structure.
Unfortunately, disease or a traumatic accident could short-circuit this natural process and potentially create future dental problems. Here are 4 things you should be doing now to protect your baby's long-term dental health.
Start oral hygiene now. Even if your baby has no visible teeth, there may still be something else in their mouth—bacteria, which could trigger future tooth decay. To reduce bacteria clean their gums with a clean, wet cloth after each feeding. When teeth begin to appear switch to brushing with just a smear of toothpaste on the brush to minimize what they swallow.
Make your baby's first dental appointment. Beginning dental visits around your baby's first birthday will not only give us a head start on preventing or treating tooth decay, but could also give us a better chance of detecting other developing issues like a poor bite (malocclusion). Early dental visits also help get your child used to them as routine and increase the likelihood they'll continue the habit as adults.
Watch their sugar. Bacteria love sugar. So much so, they'll multiply—and more bacteria mean an increase in one of their by-products, mouth acid. Increased mouth acid can erode tooth enamel and open the way for decay. So, limit sugary snacks to only meal time and don't give them sugary drinks (including juices, breast milk or formula) in a bottle immediately before or while they sleep.
Childproof your home. A number of studies have shown that half of all accidents to teeth in children younger than 7 happen from falling on home furniture. So, take precautions by covering sharp edges or hard surfaces on chairs, tables or sofas, or situate your child's play areas away from furniture. And when they get older and wish to participate in sports activities purchase a custom mouthguard to protect their teeth from hard knocks—an investment well worth the cost.
If you would like more information on dental care for your child, please contact us or schedule an appointment for a consultation. You can also learn more about this topic by reading the Dear Doctor magazine article "Top 10 Oral Health Tips for Children."
By Dr. Fatima Beheshti, D.D.S.
March 13, 2018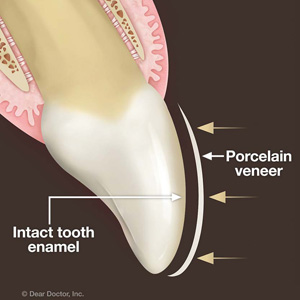 Porcelain veneers are one of the best ways to transform your teeth's appearance with only a small amount of tooth preparation. But even that small amount could leave a veneered tooth permanently altered.
As the name implies, veneers are thin layers of custom-designed porcelain bonded to the outside of a tooth to cover defects. They're usually ideal for minor chipping, staining or even slight tooth misalignments. But although they're thin—often just a millimeter or so in thickness—they can still make a tooth appear or feel bulky.
To reduce this extra width, we usually need to remove some of the tooth's surface enamel. Since enamel doesn't replenish itself, this alteration could mean the tooth will require a restoration from then on.
But now, you may be able to take advantage of new advances in this popular restoration: No-Prep or Minimal Prep veneers that involve little to no tooth alteration. In most cases they're simply bonded to the teeth with only slight enamel reshaping.
Because of their ultra-thinness, No-Prep veneers (usually between 0.3 to 0.5 mm, as thin as a contact lens) are bonded directly to teeth that are practically untouched beforehand. A Minimal Prep veneer usually requires only enamel reshaping with an abrasive tool before it's placed. And unlike traditional veneers, they can often be removed if needed to return the teeth to their original form without another restoration.
These new veneers are best for people with small teeth, often from wear due to teeth grinding, narrow smiles (the side teeth aren't visible while smiling), or slightly misshapen teeth like underdeveloped teeth that can appear peg-shaped. But people with oversized teeth, some malocclusions (bad bites) or similar dental situations may still require enamel removal to avoid bulkiness even with ultra-thin veneers.
If you don't have those kinds of issues and your teeth are reasonably healthy, we can apply No-Prep or Minimal Prep veneers in as few as two appointments. The result could be life-changing as you gain a new smile you're more than happy to share.
If you would like more information on no-prep veneers, please contact us or schedule an appointment for a consultation. You can also learn more about this topic by reading the Dear Doctor article "No-Prep Porcelain Veneers."