Posts for tag: dental injuries
By Dr. Fatima Beheshti, D.D.S.
June 25, 2021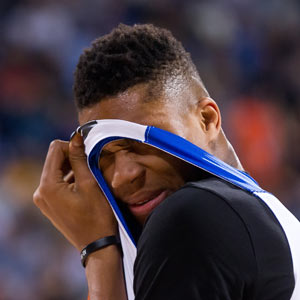 The NBA's reigning MVP Giannis Antetokounmpo may seem unstoppable, but he proved no match for a troubled tooth. Antetokounmpo, the self-proclaimed "Greek Freak," missed one of the final three 2020 regular season games for a dental issue that resulted in last-minute oral surgery. According to a Milwaukee Bucks spokesperson, the star underwent "a root-canal like procedure."
Root canal therapy, often simply called "a root canal," may be needed when there is an infection inside the tooth. When dental pulp becomes inflamed or infected, excruciating pain can result. Pulp is the soft tissue that fills the inside of the tooth. It is made up of nerves, blood vessels and connective tissue. During root canal treatment, the pulp is removed, the space inside the tooth is disinfected, it is filled with a special material, and then the hole is sealed up.
A root canal is nothing to fear. It relieves pain by getting rid of infection and is so effective that over 15 million of them are performed in the U.S. each year. This routine procedure generally requires only local anesthetic, and your mouth should be back to normal within a day or two after treatment. Antetokounmpo can attest to that, as he returned to play the next day.
However, delaying root canal treatment when you need it can have serious consequences. If left untreated, an infection inside the tooth continues to spread, and it may move into the gums and jaw and cause other problems in the body. So, how do you know if you may need a root canal? Here are some signs:
Lingering sensitivity to hot or cold temperatures. One sign of nerve damage inside your tooth is pain that is still there 30 seconds after eating or drinking something hot or cold.
Intense pain when biting down. You may feel pain deep within your tooth, or in your jaw, face or other teeth. The pain may be hard to pinpoint—and even if it improves at times, it usually comes back.
A chipped, cracked or discolored tooth. A chip or crack can allow bacteria to enter the tooth, and the tooth may darken if the tissue inside is damaged.
A pimple on the gum. A bump or pimple on the gum that doesn't go away or keeps coming back may signify that a nearby tooth is infected.
Tender, swollen gums. Swollen gums may indicate an infection inside the tooth or the need for periodontal treatment.
And sometimes there is no pain, but an infection may be discovered during a dental exam.
Tooth pain should never be ignored, so don't put off a dental visit when you have a toothache. In fact, if a bad toothache goes away, it could mean that the nerves inside the tooth have died, but the infection may still be raging. Also, be sure to keep up with your regular dental checkups. We may spot a small problem that can be addressed before it becomes a bigger problem that would require more extensive treatment.
Remember, for dental issues both large and small, we're on your team! If you would like more information about tooth pain, please contact us or schedule a consultation. To learn more, read the Dear Doctor magazine articles "Tooth Pain? Don't Wait!" and "Root Canal Treatment: What You Need to Know."
By Dr. Fatima Beheshti, D.D.S.
December 30, 2013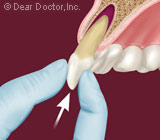 It can happen in an instant — your child takes a hard hit to the mouth while playing football, basketball or some other contact sport. Suddenly, he or she faces the severest of dental injuries: a knocked out tooth.
There's both good and bad news about this situation. First, the good news: the knocked out tooth can be reinserted into its socket and take root again. The bad news, though, is that the tooth has only the slimmest of chances for long-term survival — and those chances diminish drastically if the reinsertion doesn't take place within the first five minutes of the injury.
Outside of the five-minute window, it's almost inevitable that the tooth root won't reattach properly with the tiny fibers of the periodontal ligament, the sling-like tissue that normally holds the tooth in place to the jawbone. Instead, the root may fuse directly with the bone rather than via the ligament, forming what is called ankylosis. This will ultimately cause the root to melt away, a process known as resorption, and result in loss of the tooth.
Of course, the resorption process will vary with each individual — for some, tooth loss may occur in just a few years, while for others the process could linger for decades. The best estimate would be four to seven years, but only if the tooth receives a root canal treatment to remove any dead tissue from the tooth pulp and seal it from possible infection. Over time the tooth may darken significantly and require whitening treatment. Because the tooth may be fused directly to the jawbone it can't grow normally as its neighbor teeth will and thus may appear uneven in the smile line. From a cosmetic point of view, it may be best at that time to remove the tooth and replace it with an implant or other cosmetic solution.
In many ways the longevity of the tooth post-injury really depends on time — the time it takes to reinsert the knocked out tooth into its socket. The quicker you take action, the better the chances the tooth will survive.
If you would like more information on treating a knocked out tooth, please contact us or schedule an appointment for a consultation. You can also learn more about this topic by reading the Dear Doctor magazine article "Knocked Out Tooth: How Long Will a Tooth Last After Replantation?"
By Fatima Beheshti
December 04, 2012
Nearly every parent and caregiver has experienced that almost instantaneous sick feeling when they see that their child has been injured, especially when it is an injury to the mouth and teeth. For some, it is just a bloody lip; however, if the accident chipped a tooth, then you may have a completely different situation on your hands. If the nerve of the tooth has not been damaged, you needn't worry too much — a composite (plastic) tooth-colored restoration that is actually bonded to the tooth is an ideal material for repairing most broken or chipped teeth. See us as soon as possible to assess the extent of injury, so that proper and appropriate action can be taken.
An additional reason why bonding with composite resin may be the ideal choice for repairing a child's chipped tooth is that it can be custom created in virtually any shade so that it perfectly matches the damaged tooth and the surrounding teeth. It is also far less expensive than a crown, an important factor to consider when repairing a primary (baby) tooth that will eventually fall out to make room for a permanent tooth. If the injury is to a permanent tooth, a composite resin still may be ideal to use as a restoration until your child or teenager has stopped growing or playing contact sports. This is because your teenager may be too young for a more permanent restoration such as a crown or porcelain veneer.
An important, proactive step you can take to be prepared for the next time your child has a dental injury is to download Dear Doctor's Field-side Pocket Guide for Dental Injuries. This handy, quick reference guide is a must have for athletes, parents, caregivers, teachers, coaches or anyone who is often in an environment where a mouth injury is likely to occur. Knowing what to do and how quickly you must respond can make the critical difference between saving and losing a tooth.